August 16 – September 1, 2023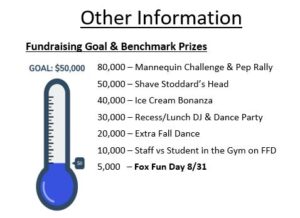 What is the Family Giving Campaign?
The Fox Ridge PTCO Family Giving Campaign raises funds to cover teacher grants, classroom material, and community events that fall outside the school budget.
Our goal is to raise $50,000 to be spent throughout the 2023-24 school year.
Why should I give?
All funds raised during the Family Giving Campaign will be spent in the 2023-2024 school year to provide the best possible environment and resources to our students. PTCO funding takes our students' education beyond what the school budget can offer – and its success depends on you!
How much should I give?
Each student's goal is $250, but any amount will help! Our Family Giving Campaign goal is to have 100% participation which will ensure we reach our $50,000 goal. Every family's ability to donate is different, so please contribute what you can. Every donation makes a difference!
Who should give?
Anyone! We encourage you to share your student's fundraising page with grandparents, aunts and uncles and family friends – anyone you think would support your child's school. Please also consider using your employer's matching grant program.
How do I give? Donate now!
Use this link to donate to our Family Giving Campaign.
If you prefer to donate by check, please make checks out to Fox Ridge PTCO and include "Family Giving" in the memo.